230 fifth
A60, medlemsklubb
Above sixty, Central Park South
Alma, Brooklyn
Attic, 48x8
AVA Lounge 55x8
Bar 13, 35Ex13
Bar dea
Bar Sixtyfive
Berry park
Bookmarks
Brass Monkey Bar
Cantina
Cloud Bar

dream downtown
FOUR
Gallow Green, Chelsea
Gansevoort meatpacking meat
Gansevoort Park Rooftop
Glass Bar
Henrys
Hotel Chantelle
Hotel Metro Rooftop Bar
Hudson Terrace
Ides at The Wythe
Jimmy at The James, Tribeca
Juliette
Kimoto
La Birreria, Flatiron
La Piscine VU Bar
Latitude
Le Baiun
Level R
Living Room Terrace
Local West
Loopy Doopy • Conrad Hotel
Lovage
Mad 46
Midtown 1015
Monarch
MR Purple, Lower East Side
Over look
penthouse 808
PHD
Pine Bar
plunge
Pod 39
pool
Press Lounge
Rare Wiew
Refinery
Roof at Park South
Roof Bar at Park South
Roof Garden
Salong de Ning
sixtyfive
Sky Room
Skylark
Social drink and Food
SoHo House Rooftop Bar
Soy Glass
St Cloud på the Knickerbocker hotel
Super Nova
Terrace
The Beach
The Crows Nest
The Delancey, Lower East Side
The heights
The Ides
The Press Lounge
The Roof
The Sky Terrace
The Skylark
Top of The Standard
Top of The Strand
Toshi´s
Up on 20
Upstairs
Vu Rooftop Bar, 17 west 32nd street
westlight brooklyn

Rooftop, Long Island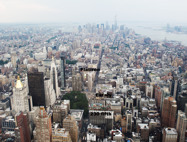 230 fifth
Loungen är öppen alla dagar året runt från 16:00-04:00. Efter att ha spanat in loungen, gå där efter till Rooftop Garden, väl där kommer du inte veta var du ska titta, du ser en fantastisk utsikt över Manhattan, Empire State Building och Chrysler Building. På andra sidan av baren har du utsikt över Downtown och Freedom Tower. Om det är en klar dag kan du även se Frihetsgudinnan.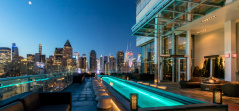 Press Lounge på Ink48
48th w/11 ave
En halvtimme från hotell Park Lane.
Nästan vid Intrepid Sea and Air Museum.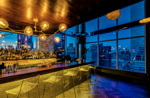 The Lovage Rooftop & Indoor Lounge
346 W. 40th Street; 212-956-7020
At 4,000 square feet with 17-foot floor-to-ceiling windows and a glass roof, Lovage is truly a sight to behold.
…But it's the sights outside that will take your breath away. 360-degree views put on a "couldn't ask for more" display of the best of New York City: the Empire State Building, Times Square, the Freedom Tower, the Statue of Liberty, the Hudson River, and more.
Social dring and foood
Monarch
Top of the Strand
The Skylark
Roof Garden
#5Sky Room
Top of the Strand
33W 37th st
Upstairs at the Kimberly
Madison/46
Our stunning penthouse level lounge sits 30 stories high atop the Kimberly Hotel in Midtown Manhattan. The new, 3000 square foot venue features three separate indoor/outdoor atmospheres, stunning interior design, retractable glass ceilings and walls, ambient heated floors and breathtaking views of the iconic Chrysler Building. Thoughtfully designed to be as elegant and inviting in the winter months as it is sunny and sophisticated in the summer season. Creative cocktails and small plates menu are served nightly.
Below 30th street
#2Jimmy at the James Hotel


Gallow Green
#1 Gansevoort Meatpacking
Hotel Americano
Bar d´Eau at Trumps Soho tredje våningen och dålig service
Le Bain at the Standard, High Line
#3 The Boom Boom Room
The Brass Monkey
La Birreria
Loopy Doopy
#4 230 fifth
The Crow´s nest


CENTRAL PARK WEST/OVANFÖR 60
Empire Hotel Rooftop


Ej Manhattan
Z Roof
Berry Park
Brooklyn Bowl
Bourbon Street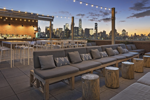 Mr Purple
180 ORCHARD STREET, 15TH FLOOR, NY, NY 10002
Strax nedanför där First Avenu börjar.

Mr. Purple, a rooftop bar and restaurant located on the 15th floor of Hotel Indigo Lower East Side, captures the vibrant and artistic spirit of the LES. Designed by internationally acclaimed design firm Crème Design, the space recreates an artist-loft ambiance with indoor and outdoor areas displayed through the use of reclaimed wood structures, juxtaposed with concrete, metal, free hanging lights, and contemporary wooden furniture.