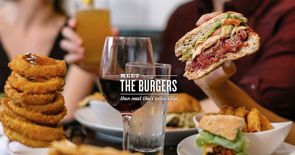 1. 5 Napkin Burger
630 9th avenue • 30 min promenad från Park Lane
Alla har rätt till sin egen åsikt men den här restaurangen är på allas topp 5-lista och på min/Erics förstaplats. Five Napkin Burger är en restaurang som även har andra rätter på menyn så som sushi, vilket är perfekt om du går med någon som vill äta något mer hälsosamt medan du själv vill testabästa burgaren i New York.
Bästa hamburgare på restaurangen heter Original 5 Napkin Burger. Burgaren har speciell ost och sås och det är det som gör den så speciell. Det är en riktig "heavy-duty burger" som inte alla klarar att äta upp. Stripsen är oftast krispiga (om kocken är på rätt humör) och tillagas med skalen på.
Pris: 16,75 US dollar per burgare
Plats: Finns på olika adresser på Manhattan. Restaurangen ligger vid Midtown, inte långt ifrån Times Square.
Webbplats: 5 Napkin Burger
Eric tipsar: Mellan kl. 18:15 och 21:00 är det oftast en timmes väntetid, ibland även mer. Oavsett om du går mellan middagstid och kl. 01:00, kommer du förmodligen att få vänta, något att ta hänsyn till. Den här restaurangen serverar fantastiskt god mat och det är en bra stämning. Det är det så gott som alltid fullsatt.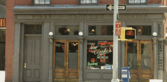 PJ Clarke's
915 Third Avenue, at 55th Street
New York, NY 10022
Gångavstånd från vårt hotel.
Hamburgarnas fader.
Finns på fler ställen.
Detta är originalet, i NYC.
Foto: TC 1979
Nat King Cole dubbed the bacon cheeseburger at P.J. Clarke's "the Cadillac of burgers" back in the 1950s. It has remained the bar's signature dish, and one of NYC's most famous hamburgers.
Upland
Shake Shack
Burger Lobster
Union Square Café
Joe Junior
Corner Bistro
Minetta Tavern
Paul's "Da Burger Joint"
Superiority Burger
Lure Fishbar

ERIC
1. Five Napkin Burger
2. Corner Bistro
3. Burger Joint
4. Shake Shack
5. Maialino

EATER
Brennan & Carr
Duffy's Tavern
Emily
Peter Luger Steak House
Balthazar
Superiority Burger
Paul's "Da Burger Joint"
Minetta Tavern
The Spotted Pig
Joe Junior
Corner Bistro
Union Square Café
Lure Fishbar
Shake Shack
Upland
White Mana
Donovan´s Pub
db Bistro Moderne
21
PJ Clarkes
Burger Joint
Burger heaven
JG Melon
Jackson Hole